Tim Phelps
TIM PHELPS, CMI, FAMI
Medical Illustrator
504 Fairway Court
Towson, Maryland 21204
(410) 321-8607

---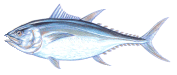 Tim Phelps is the artist who produced the illustrations that were used in the Alien Species, Overfishing and HOW DEEP can they go? sections of the Smithsonian's new Ocean Planet exhibition.
AREAS OF SPECIALIZATION

Creative and concise solutions to anatomical, biological, conceptual and surgical illustration problems in full color, pen and ink, tone and computer for clients nationwide.

PROFESSIONAL BACKGROUND

Certified Medical Illustrator, M.S., Medical and Biological Illustration, University of Michigan, Associate Professor, Johns Hopkins, Fellow in Association of Medical Illustrators. Fourteen years professional experience specializing in editorial and publishing markets.

SELECTED CLIENTS

Book Publishers:

Elsevier, Lea & Febiger, JB Lippincott, Little Brown & Co., Mosby-Yearbook, The Quarasan Group, Raven Press, W.B. Saunders, Springer-Verlag, Williams & Wilkins, Worldbook Encyclopedia.

Editorial:

ABC News, American Family Physician, Anatomyworks, BioLiterature, Cricket Magazine for Children, The Houston Post, Medical Economics, Medical Times, NBC News, Postgraduate Medicine.

Advertising:

Adams/Sandler Group, AM Medica, Becton-Dickinson, Medical Information Services, Miller-Mauro Group, Ogilvy-Mather, Parke-Davis, Warner-Lambert.

OTHER

Over 30 awards in national and regional markets for artwork in color, tone, pen and ink, video and projection media.

Ocean Planet Exhibition Floorplan


gene carl feldman (gene@seawifs.gsfc.nasa.gov) (301) 286-9428
Judith Gradwohl, Smithsonian Institution (Curator/Ocean Planet)