Ocean Planet Customized Tour: Page 3 of 17






1 2 3 4 5 6 7 8 9 10 11 12 13 14 15 16 17
---

---
Gloucester cookbook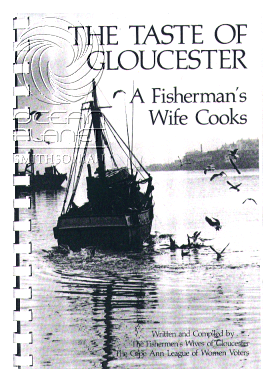 The "Taste of Gloucester" cook book was created by the Gloucester Fishermen's Wives and the Cape Ann League of Women's Voters to share recipes of lesser known species of fish as well as familiar ones. The recipes are drawn from tradition and are variations of ethnic specialties for different occasions. The original purpose of the "Taste of Gloucester" cook book was to develop interest in these other fish to help the local fleet to diversify its catch and reduce fishing pressure on popular fish like cod, haddock and yellowtail flounder. More than 90,000 copies of the cook book have been sold.
The 1995 edition offers new gourmet recipes for species which remain plentiful in Northwest Atlantic waters such as Atlantic herring, Atlantic mackerel and others.
HERE are some sample recipes from the Taste of Gloucester Cookbook.
Copies of the Taste of Gloucester can be ordered through the Gloucester Fishermen's Wives Association online Gift Shop

Ocean Planet Exhibition Floorplan


gene carl feldman (gene@seawifs.gsfc.nasa.gov) (301) 286-9428

Judith Gradwohl, Smithsonian Institution (Curator/Ocean Planet)