---
Ocean Planet: Writings and Images of the Sea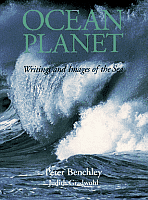 Table of Contents and text of many of the articles
Ocean Planet: Writings and Images of the Sea is a companion volume to the major traveling exhibition on ocean Conservation that opened at the Smithsonian Institution's National Museum of Natural History on Aprill 22, 1995.
Writings and Images of the Sea

Original Text by Peter Benchley

Edited by Judith Gradwohl
Through engaging essays, stirring personal recollections, fascinating facts, and stunning photographs, most in full color, OCEAN PLANET explores the role that the seas play in our lives, and examines the impact of human endeavors on this vast, yet vulnerable, environment.
In these pages, writers, ocean scientists, conservationists, sailors, and fishermen speak eloquently about their interactions with the oceans. Rachel Carson celebrates the power of the seas; Ann Davison, the first woman to sail alone across the Atlantic, reflects on the self-sufficiency; novelist Peter Matthiessen tells of the hard lives of fishermen; John McPhee evokes the dangers of the open sea; naturalist William Beebe descends into the Atlantic in 1934 in a small sphere and reports on what he sees; Jacques-Yves Cousteau takes the first dive with the newly invented Aqualung.
Stunning photographs of seafarers and shipwrecks, fishermen, oceanographers, rarely seen deep-sea life, and teeming coral reefs enhance these essays and recollections.
With 115 illustrations, including 86 in full color, 192 pages, 9 X 11" (ISBN: 0-8109-3677-1) $39.95
Available at bookstores or call 1-800-345-1359 (NY residents 212-206-7715) to order you copy by credit card today.
Orders may be faxed to 212-645-8437.

Ocean Planet Exhibition Floorplan


gene carl feldman (gene@seawifs.gsfc.nasa.gov) (301) 286-9428
Judith Gradwohl, Smithsonian Institution (Curator/Ocean Planet)