JASON VII: Adapting to a Changing Sea
The NR-1 Submarine

---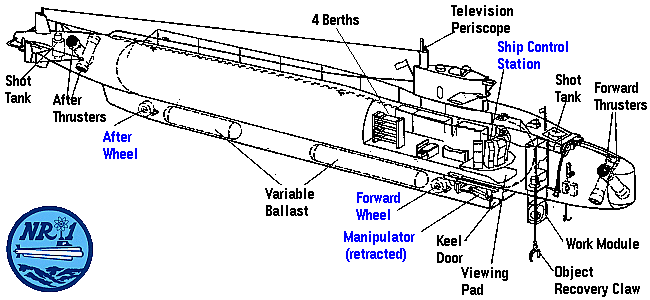 The JASON VII team will use NR-1, the Navy's nuclear submarine, to map ancient coral reefs. One of these reefs, the "hump," has never been explored before.
The NR-1 is a compact, nuclear-powered, electric-drive undersea research and ocean engineering submarine. Her operation depth encompasses all of the continental shelves and much of the continental slopes, while her nuclear power plant provides a far greater endurance than any other research submarine.

The NR-1 is capable of ocean search missions such as locating and identifying objects or ships lost at sea, and in situ examination and recording of ocean topographic and geological features. The ship is equipped and has the capacity for work near or on the seabed, performing sample gathering, recovery, implantation, or repair of objects in the ocean. The installed equipment can be supplemented by scientist-supplied sensors to conduct experiments and obtain knowledge of the ocean's chemical, thermal, optical, biological, and acoustical characteristics.

Principle Characteristics

Length overall                          145 ft 9-7/16 in. (44.4 m)
Pressure hull length                    96 ft 1 in. (29.3 m)
Diameter                                12 ft 6 in. (3.8 m)
Maximum beam (at stern stabilizers)     15 ft 10 in (4.8 m)
Maximum navigational draft              15 ft 1 in. (4.6 m)
BOX keel depth (below base-line)        4 ft O in. (1.2 m)
Design operating depth                  2375 ft (724 m)
Displacement submerged                  366 long tons, 409.92 short tons
Speed, surfaced/submerged               4.5/3.5 knots
Mean Draft                              15 ft 3/4 in. (4.6 m)
Endurance                               210 man-days (nominal)
                                        330 man-days (maximum)

Read about life onboard the NR-1

Learn more about the NR-1 and how it will be used during JASON VII

Watch the NR-1 in action and Listen to the Sounds of the Submarine

Department of the Navy - Sea Systems Command.
Other Links:


JASON Project homepage || Teachers' Guide || Students' Corner || Search


Gene Carl Feldman (gene@seawifs.gsfc.nasa.gov) (301) 286-9428
Todd Carlo Viola, JASON Foundation for Education (todd@jason.org)
Revised: 10 April 1996