Expedition Journal
April 18, 1996
A tour of the Carolyn Chouest
---
Tuesday was the first day of broadcasts for me, as I had been shark tracking for all of Monday. Instead, I was assigned as the geo reporter aboard the Carolyn Chouest.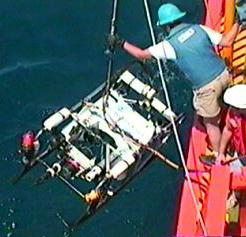 The Chouest is a huge support vessel for the NR-1, constantly hovering over the reefs as a platform for the brodcasts, ROV's, and the submarine. A crane is used to move the ROV off the deck and slowly lower it into the water. The support cables for the ROV are attached to this ship as well. The ship is also used to take the NR-1 into tow. Production takes place on the deck, aft steering control room, and the lab. Dr. Ballard usually makes his intros and closings on the deck and in the aft steering control. The production equipment and the scientists all work out of the lab. In between the brodcasts, we have the chance to go to the lounge, or the mess hall (where the food isn't that bad). The ship also has an exercise room, an NR-1 store, and many flights of steep stairs.
Besides the broadcasts, we also take a lot of pictures and even taped a segment for Good Morning America. We follow a rigorous schedule with 30 minutes between the start and end of each brodcast; five brodcasts per day. It can sometimes be tiring, but we always have fun. We usually get a chance to relax when we get back to Key JASON. Keep a lookout for my journal on the NR-1.

Back to April Expedition Journal


JASON Project homepage || Teachers' Guide || Students' Corner || Search


Gene Carl Feldman (gene@seawifs.gsfc.nasa.gov) (301) 286-9428
Todd Carlo Viola, JASON Foundation for Education (todd@jason.org)
Revised: 18 April 1996