Expedition Journal
January 22, 1996
From the Field
to the Lab
---
Hi Everyone!!
Today I went out on a boat ... for four hours. It was fun. Susan, our Teacher Argonaut, and I took four water samples and recorded lots of data. Our data will be used in lab experiments testing everything from the dissolved nutrients in the water to the number of eggs the zooplankton in the water samples can produce. We learned a lot.
It was neat to be in the boats today. The suntan lotion, the waves, the water, the dolphins, the really close view of the bottom... It was all fun. At one point we ran aground. I know it sounds funny, and frankly, it was! Our captain had to get out and push us away from the ground, a neat experience for all of us (I'm smiling). The dolphin thing, although brief, was cool. To see those animals in the wild, WOW!
I am already beginning to realize the amount of work (and lack of sleep) it takes to produce any sort of results as a scientist. After my four hour boat trip, the "gang" went over to The South Florida Regional Laboratory. It was so fun to work on all the machines, cylinders, microscopes, and the location systems that the lab uses. These scientists know a lot. Their schooling and experience really shows.
The production aspect of the project is going nicely. It is awkward to be in the middle of a movie, scientific or not. I had never thought of it before, but when an audience sees a close up of a person, it is because the camera is in the persons face. When you all see this production in March, remember that, try to understand how hard it is to look normal when there is a camera practically resting on your shoulder.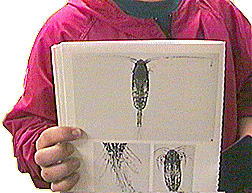 In the lab I got to catch adult copepods, a kind of zooplankton. I was able to count out five adult female copepods to be monitored for the number of eggs they produce. The study is being run by Carol Burkeart, a Ph. D. student. She taught me a lot about the coppepods and hopefully my newfound knowledge will be passed along to all of you during the rest of the week.
Kristy Holland
JASON Project Argonaut
Florida Bay Research Team

Back to January Expedition Journal


JASON Project homepage || Teachers' Guide || Students' Corner || Search


Gene Carl Feldman (gene@seawifs.gsfc.nasa.gov) (301) 286-9428
Todd Carlo Viola, JASON Foundation for Education (todd@jason.org)
Revised: 22 Jan 1996