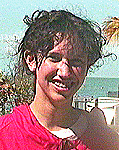 Safia Rawoot
---
Safia Rawoot is a 10th grader at Stonewall Jackson High School in Mt. Jackson, Virginia. Rawoot, from Timberville, Virginia, studied the Chesapeake Bay while on a three day field study on Fox Island to learn more about the ecology of the area and about what is being done to preserve the environment.

JASON Primary Interactive Network Site: National Geographic Society
JASON VII Argonaut Sponsor: Clark Laboratories, Inc.
Journal Entries

Back to January Expedition Journal


JASON Project homepage || Teachers' Guide || Students' Corner || Search
Gene Carl Feldman (gene@seawifs.gsfc.nasa.gov) (301) 286-9428
Todd Carlo Viola, JASON Foundation for Education (todd@jason.org)